Leading the Good Florist Guide team, Karen Broxholme of Bluebells Lincoln designed a breathtaking moongate to welcome visitors at Leeds Castle Festival of Flowers. This summer, moongates quickly cemented themselves as one of 2018's key wedding trends with a boom in popularity on blogs and Pinterest as brides and grooms chose this impressive floral backdrop for their nuptials. Karen's creation took pride of place on the front lawn by the castle entrance, the perfect spot for visitors to stop and take selfies within the magnificent castle setting.
Representing the Good Florist Guide brand and skills of its members, Karen opted for a gorgeous array of purples and icy whites, and the design included anthurium, carnations, clematis, hydrangea, roses,Vanda orchids, ruscus, Green Eye roses, Diplocyclos Palmatus, green moss and September flower. Green amaranthus hung from the frame to add life and movement, while frosted white and lilac dyed asparagus fern gave it an ethereal feel, contrasting beautifully with the mist that rises from the castle moat each morning.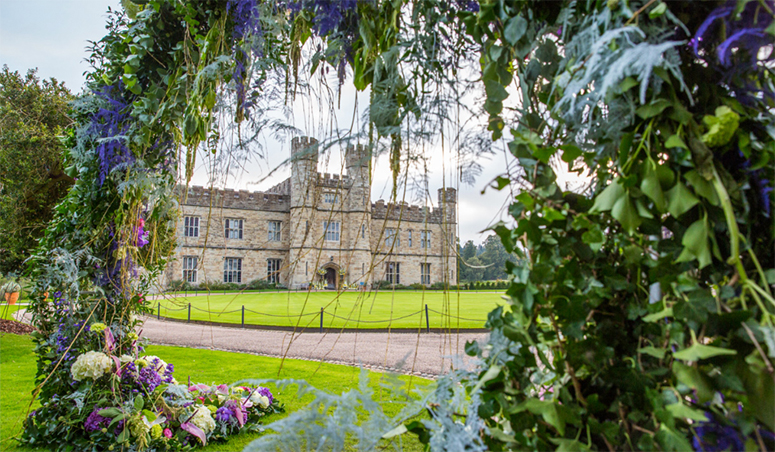 Originating in China, moongates are said to have magical spiritual powers but were first introduced as free standing designs in Bermuda back in 1860 as tokens of good fortune. Now it is a popular design for weddings as legend has it that passing through the gate together will bring the couple a lifetime of happiness.
Ahead of the event, Karen ordered a metal moongate frame which she fixed into position by hammering pegs onto its base before covering the whole thing with metal netting using cable ties. She then taped foam bricks to the netting, opting for new Noir foam from OASIS® Floral Products – a design choice that shows more depth and darkness beneath your blooms. Precautions were taken to make sure the frame remained sturdy and wouldn't bow in the middle causing the whole thing to collapse when least expected, every designer's biggest nightmare!
Then came the foliage; lush swathes of ruscus, eucalyptus, asparagus fern and green amaranthus were inserted into the foam and given the appearance of being loosely draped from the frame. Blocks of foam were placed at each base, arranged so that flowers would look as though they're flowing outwards. Finally, white, purple and pink blooms were added, with delicate varieties like Vanda and roses inserted into long-stemmed plastic vials to keep them watered. The finest quality flowers and foliage were kindly sponsored by Fleurametz.
Thousands of visitors attended the special event at Leeds Castle and were greeted by Karen's show-stopping selfie-spot, flying the flag for Good Florist Guide.
Want to get involved with events like this? Good Florist Guide membership is open to florists all over the UK and joining the GFG family could mean you're soon embarking on exciting opportunities you never thought possible.

About the designer
Karen Broxholme, Bluebells, North Hykeham, Lincoln
Karen has been a florist for nearly 30 years, 24 of them running her own shop Bluebells in Lincoln which is well known for beautiful flowers and unusual funeral tributes. While her team run a really busy shop, Karen loves working at venues doing weddings and event floristry in the Lincolnshire area.
A brand ambassador for Good Florist Guide and Flowers of Colombia, Karen creates floral magic for her clients for every occasion but admits moongates are one of her favourite projects, especially for weddings.
Karen Broxholme of Bluebells Lincoln led the design team, which was made up of eight fantastic florists who all volunteered to take part because they wanted to promote and strengthen the GFG brand while enjoying what was an amazing week of fun floral creativity. Enormous thanks go to the whole team; Morgan Nuth and Amanda Elliott from Old Oak Floral Designers, Keri Walker from Keri The Florist, Karen Lindsay from Flowers by Karen Kilmarnock, Laura Thompson from Pinks Florist Hazlemere, Nicola Roberts from Beau-k, and Karen Massey from Fleurtatious - who travelled all the way from Dublin to get involved.
Huge thanks go to those companies committed to boosting good floristry and raising industry standards by supporting Good Florist Guide; top quality flowers for the event were sponsored by Fleurametz, while a fantastic range of sundries and accessories were sponsored by OASIS® Floral Products and Corsage Creations.